The Origins of Menopausal Militia
In 2004 I became co-owner of a bead shop in a small town in western North Carolina. My partner and I secured a large retail space one block off a quaint little main street and set about painting, building display cases and decorating the shop. Then we sank the rest of our money into inventory.
It was fun and exciting selecting all the different beads, crystals, gemstones, findings and jewelry making tools for our new venture. We were clinical therapists by day and now retail entrepreneurs on evenings and weekends.
Delivery day finally arrived and we met the UPS guy at the shop. He opened the back of the truck and carried (in his arms, not on a dolly) four boxes. He handed them to us, went back to his truck and drove away. We looked at the boxes, then at each other, then at the boxes and then at each other again. We shrugged and one of us said, "I guess the rest will come later".
We set about opening and unpacking and oohing and ahh-ing at our new inventory, but as we checked everything off the master list, we soon realized this was it. All of it. Thousands of dollars of inventory in four boxes, in an almost 2,000 square foot retail space. I can't remember if we laughed or cried or both. I do remember feeling foolish. Beads, we learned, don't take up much space.
What to do? What to do? We made the best of it. We pulled everything forward into the front one-quarter of the space. Spread everything out so that shopping was not elbow to elbow. Added a living room-like space for hanging out. Hung a curtain the width of the room.
The store was not a financial success, but it was an interpersonal success. We became friends with a core group of our customers and ended up having after-hours potluck dinners in the area behind the curtain. We added Bunco games and wine. Lots of wine. When one of the group moved away we all contributed gemstones and made her a beautiful necklace. Being a lover of acronyms, I dubbed us the Sisters of the Stones, aka the SOTS, which seemed quite fitting. I was the youngest at 45 and the eldest of our group was 65, so we were all also WOACA – women of a certain age.
One evening conversation turned to current events, politics, the state of the world (mind you, this was 2006, long before things really went to crap) and someone said, "If all these arrogant, entitled men would just get out of the way and let women run the world everything would be fine in a matter of a few years!". And another said, "Yes! Women know how to do fifty things all at once and do them all well; how to motivate, organize, direct, coordinate, you name it." And then our most cynical group member said, "Well to start off it needs to be all menopausal women because they'll get in there and kick butt and not take any shit, especially if they're hot flashing". "Yeah, we need an army of…no, no we need a militia of menopausal women to whip this planet back into shape!" And we all laughed and toasted our problem-solving prowess and poured another glass of wine. And that was that.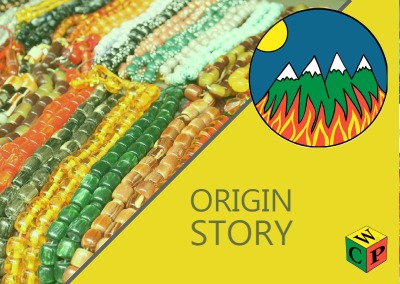 Continued…
Except over the years I haven't been able to let it go. I've returned to the concept repeatedly wanting to turn it into something more. I liked the double M's of the name and sketched out an emblem, like an old-school Girl Scout badge, but full of hidden meanings. I liked the felt sense of camaraderie and bonding brought on by this universal experience of WOACA.  Our group had likened it to the Red Hat Society, except hormonal and easily pissed off. And that made me think about the poem Warning by Jenny Joseph and the line "When I am an old woman I shall wear purple…". This piqued the irreverent poet in me, and I wrote the first stanza of a parody poem in 2006. I stumbled across that fragment in 2019 and completed it. It has become a favorite at local poetry nights.
But now I want to do more. As a therapist I see not only the healing value of humor but also the need for resources; especially skills and guidance on how best to cope with this life transition that bonds us yet also challenges us (and those who love us) in so many ways. I hope menopausalmilitia.com becomes a safe place for you to land when you need any or all of the above.
Return 'Home' for recitation of The Declaration of the Menopausal Militia as read by the author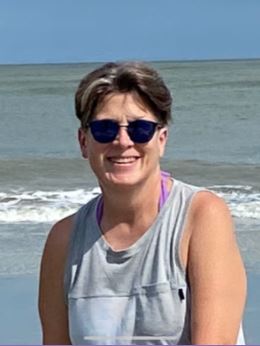 C P Whitaker Bio
C P Whitaker MSW, LCSW is a psychotherapist providing services to clients in Western North Carolina through her private practice Centered and Balanced, PLLC. She is a Veriditas trained Labyrinth facilitator, certified in the Clinical Applications of the Enneagram and trained as a  SoulCollage® Facilitator
Whitaker enjoys hiking, biking, kayaking, fly fishing, camping, firepits, howling at the moon, writing prose and poetry and sharing meaningful conversation, comfortable tears and hysterical laughter with her tribe. She lives in a never-ending DIY project with her brilliant but overly dramatic cat Luna (Tic).
Currently playing at being semi-retired, she has decided at 60 to stop saying "I'm going to (fill in the blank)" and start doing all the things she has always wanted to do. Her current focus is turning her myriad ideas into a digital presence providing resources, skills, humor and a path to self-awareness for people dealing with challenging life circumstances. Menopausal Militia is the first of these offerings.
Luna's Story
Prior to moving my office to my home as a result of the pandemic, I had a small practice in a nearby town from 2010 to 2020.  People joke about how hard it is to "herd cats" but I am here to tell you that it is even harder to count a cat herd. More appropriately known as a feral cat colony, I discovered 25-30 hard-scrabble cats of all ages and colors (but primarily brindled or calico) living in the falling down warehouse behind my office. There was also an enormous groundhog, three raccoons, a possum and, for a brief time, a red fox.
Carol, my massage therapist next door neighbor, and I joined forces with the Humane Society and began the process of trapping as many as we could and having them spayed/neutered, vaccinated, flea and parasite treated. Local vets participated in the program but the catch was that the cats must be returned to their "home colony" and cared for. Carol and I took on that responsibility, named them all, fed and watered them daily and had regular "kitty-cat rodeo roundups". Over the years some disappeared, some died, and others were rehomed as barn cats in the community. The occasional litter of kittens were caught and adopted out. By the summer of 2019 there weren't that many left and we were relatively certain all of those had been fixed. Au contraire, mon frere……
On a blistering hot Saturday I pulled into the small parking lot for my turn at the weekend feeding and saw what I thought was a couple of pieces of trash in front of my office door. Instead, what I found were two emaciated kittens practically frying on the asphalt. Disturbing image, I know, but sadly accurate. One looked like a buff-colored fire point Siamese and the other a brindled slate gray. They did not budge as I approached and I thought they might be dead but then I saw their tiny little hearts thumping inside their scrawny little chests.
I got exam gloves out of the Jeep (yes, I am one of those prepared-for-anything types) and gently scooped them both up, laid them on the passenger side floorboard and called my vet's office.
Lauren answered. "I'm sorry but we just closed. Everyone's gone but me and I'm locking up. You've taken care of an entire colony for ten years, you can do two kittens until Monday. You've got this!".
"No, wait. I can be there in fifteen minutes tops. They're almost dead! They're bloody and snotty and scabby and I don't want them to die on my watch."
They were still alive when I pulled into the carport. My ex had moved out the month before so I set up a kitten hospital in the completely empty living room. I Googled and watched You Tube videos. I bathed them and cleaned wounds and picked fleas. I gave water by eye dropper every thirty minutes and finally got them to urinate by nightfall. They passed out in their soft little bed. I barely slept.
Next morning, even though they still looked like hell, they were both able to stand on their own and by late afternoon they were acting like kittens. The buff-colored one was missing an eye so I called him Jack. The other I called Brindle. I was trying not to get too attached. Jack had an ugly gash under his chin and when I put more medicine on it he bit the crap out of me. Brindle began running around in circles like a lunatic. That's when I knew they were going to be OK.
Monday rolled around and I dropped them both at the vet's, pretty proud of myself, and expecting them to get patched up and sent to the Humane society for adoption once they got some weight on them. Mid-afternoon I got a call from Dr. Michelle that went something like this:
"I've got an update for you on the two ferals you brought in this morning. The gray one has a terrible upper respiratory infection, eye infection, worms, and is seriously underweight. We're waiting on some more labs but I'm going to go out on a limb and say that in time she will be fine. But the buff colored one? I don't know, he's in bad shape. He's got everything his sister has. He's missing an eye and the socket is infected. But what worries me most is the wound under his chin. We think a wild animal may have tried to kill him. I'm glad you have some feral experience and know to always protect….."
"Uh, Michelle, I uh…"
"Hold on, let me finish. I'm afraid there's a good chance he…"
"Michelle? You don't think he could be…."
"That's what I'm trying to tell you…."
"Michelle! He bit me!"
There was what seemed to be an interminable silence on the other end. Dr. Michelle took a deep breath and let it out slowly. I felt woozy. Then she uber-calmly said in a fake upbeat tone, "OK then. I need to call the state and the CDC and I'll get right back to you."
The phone went dead as I babbled, "Wait! No, no, nooooo. You don't think……. Oh. My. God."
She called back within ten minutes but I had already googled rabies, symptoms, transmission, testing, treatment, time between infection and point of no return (ten days and this was the end of day two). I learned that only one person has ever been known to survive a case of rabies. That the shots are painful, ridiculously expensive and that my insurance didn't cover them.
The short list of options was neither easy nor comforting. I tearfully chose to have Jack tested by the state which required him to be euthanized. Michelle said he wasn't likely to survive anyway but I suspect that was to make me feel better. Even so, if the results weren't back within the allotted time frame I would have to start the series of shots. On day eight the vet's office called to say he was negative for rabies and that Brindle could come home.
"Home?", I said incredulously. "I can't keep her. I basically had her brother killed, I'll never be able to look her in the eyes again!". I told Lauren to call the Humane Society and have them find her a good home. They protested. I insisted. Two hours later I called back and told them I was on my way to get my kitten. They hadn't even bothered to call the Humane Society.
And that is how the resilient and brilliant Ms. Luna (Tic) came to be my furry feline roommate, companion, entertainment and now official mascot of these pages. I have no doubt you will become as enamored with her as I am.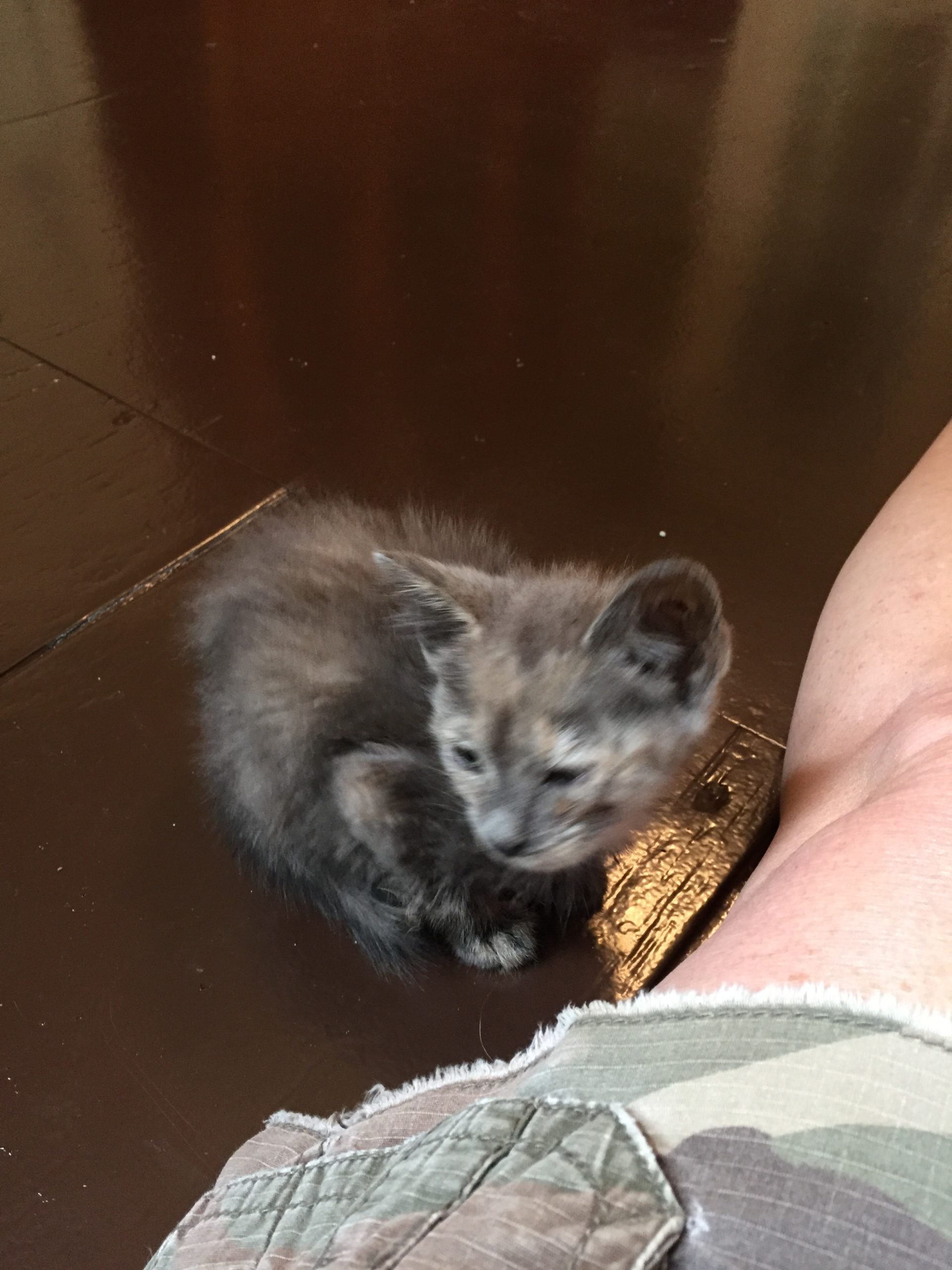 Bathed and hydrated the day after rescue.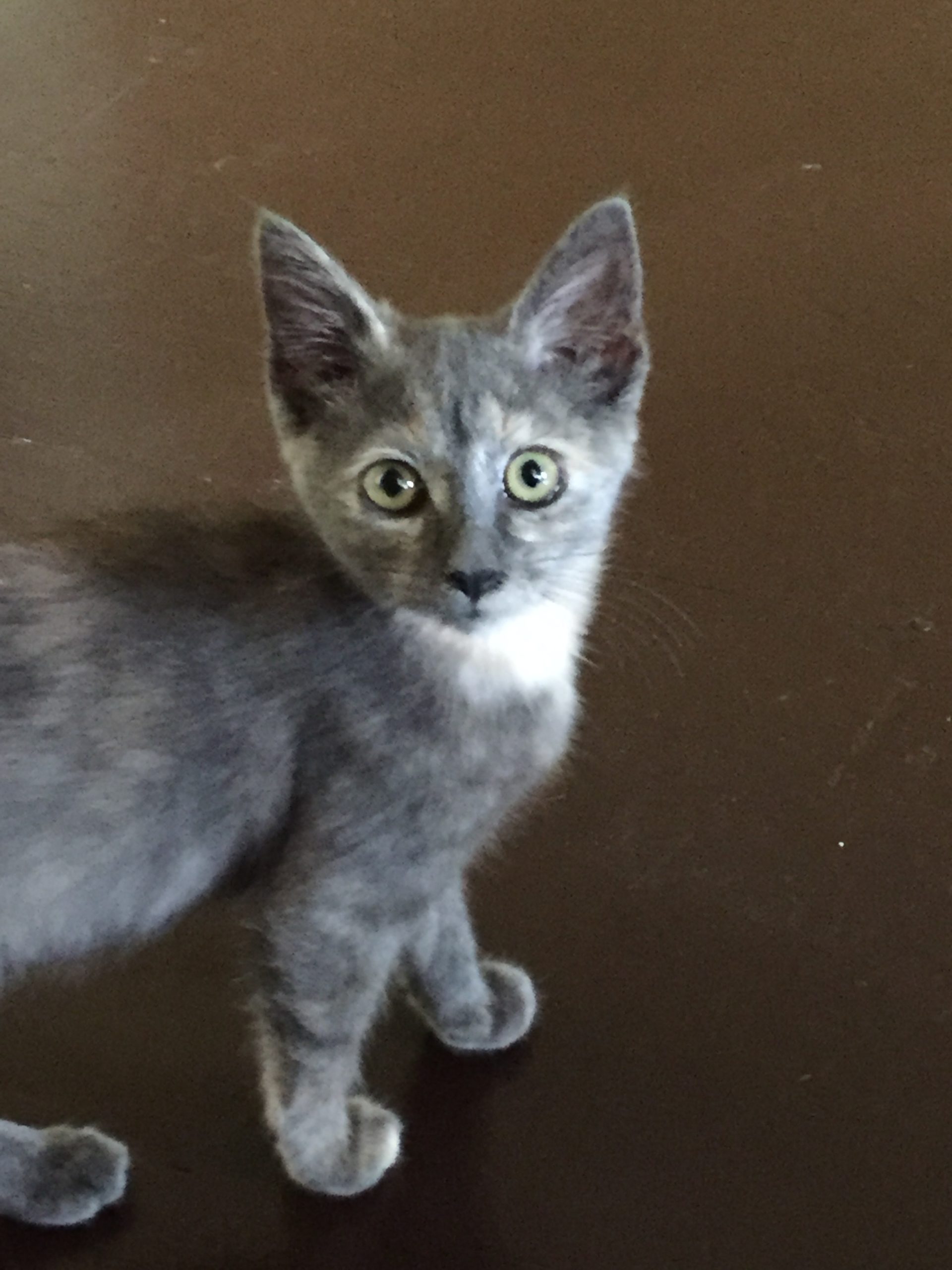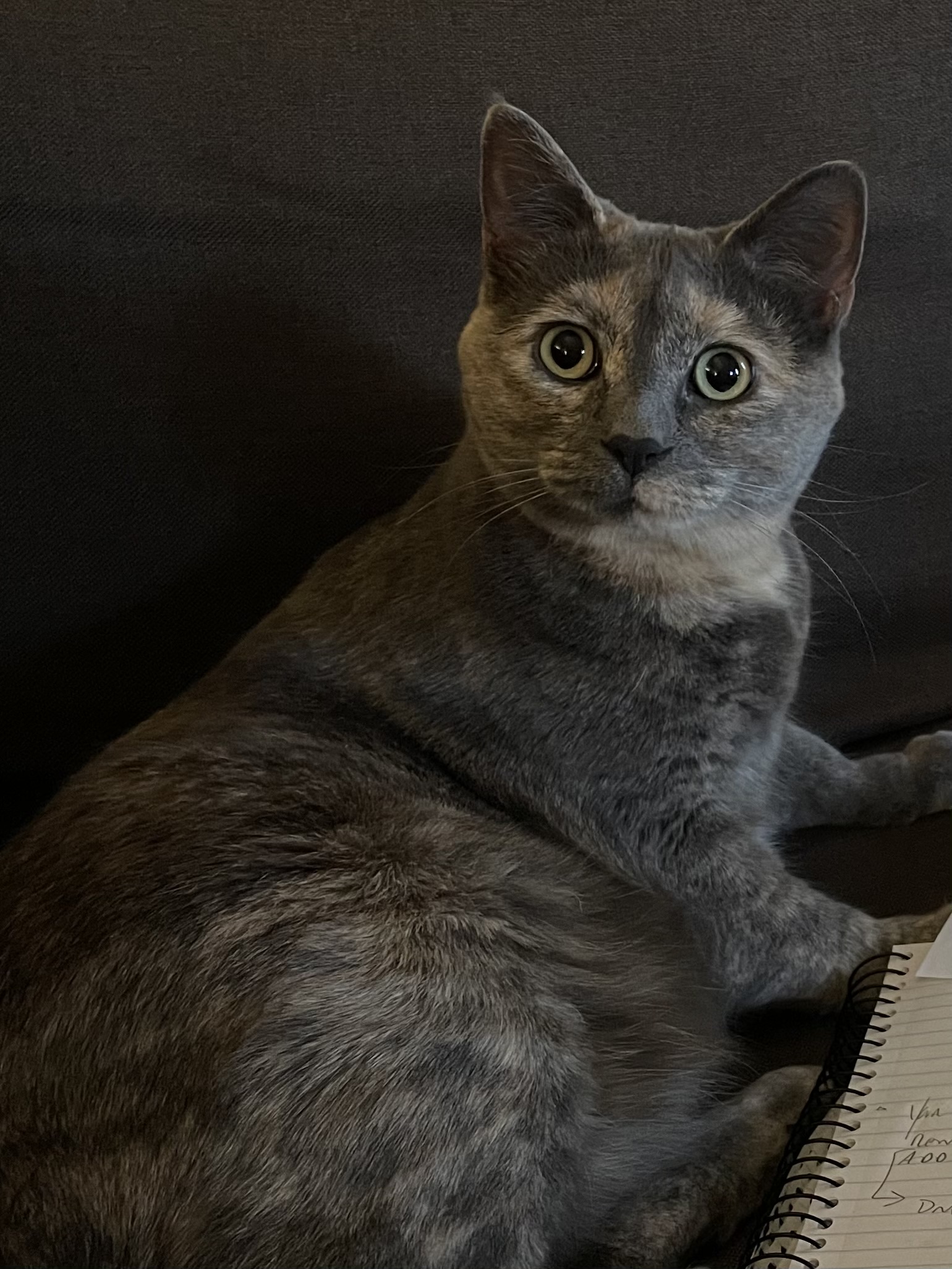 Age 2 1/2 and happy, she grew into those big ears!